Why is Jacks or Better video poker so popular
Question: Why is Why is Jacks or Better video poker so popular
Answer: There are many reasons why Jacks or Better is the most popular video poker game.
Video poker has been around for nearly four decades and is still relatively popular even with the proliferation of live casino games and video slots. Of the numerous video poker variants though, Jacks or Better has arguably been the most popular. Also called Draw Poker, Jacks or Better is considered the most common video poker variation. This is by no means though, the reason for its popularity.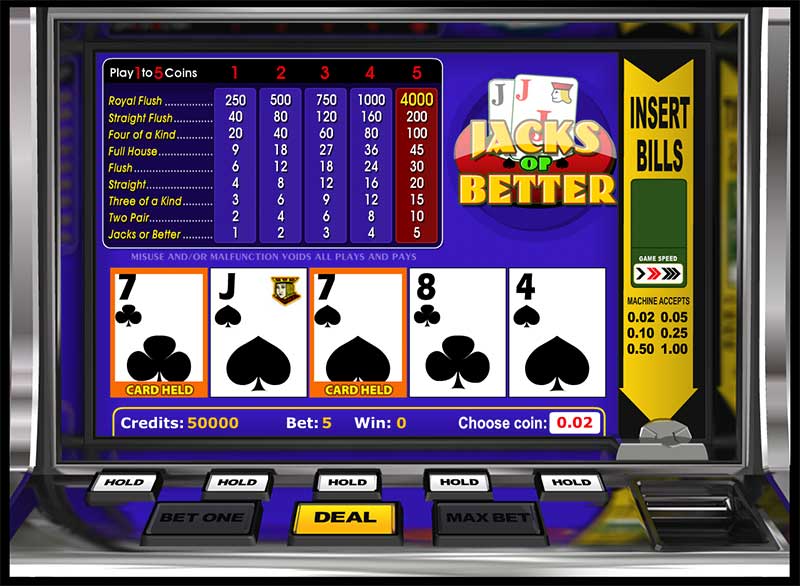 High Payback & RTP, Low House Edge
When discussing the highest paying video poker variations, there aren't many that can rival Jacks or Better. If they used the most efficient strategies, players will get to enjoy a 99.54% payback on their wagers. Compared to the average house edge of online slots (4%), this figure is extremely advantageous for the player. As a result, you'll find most online casinos with rewards programs limiting the number of points their players receive from wagering on this (and other) video poker variation.
Of course, this isn't to say that Jacks or Better is the best video poker variant (or casino game) around. There are video poker variants with tweaked mechanics/gameplay that would allow for even lower house edges than JoB. Depending on the developer, titles like Aces & Eights, 2 Ways Royal, Double Joker, Split Way Royal, and others can also have better odds for players.
Availability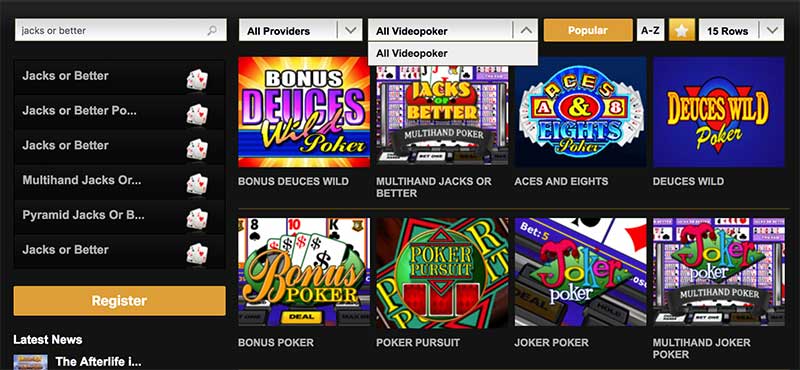 Aside from the high payback, availability is another reason for Jacks or Better's popularity. Nearly a majority of the top developers in the industry have their own JoB video poker game. Examples of developers who've made a JoB title include (but aren't limited to) NetEnt, Saucify, Play'n Go, Microgaming, Pragmatic Play, Amaya, Realtime Gaming, Rival, NuWorks, Cryptologic, Random Logic Software, and Habanero Systems. With the majority of online casinos these days making use of these developers' platforms, it should be relatively easy for players to come across a Jacks or Better title. Case in point, most online casinos that feature NetEnt's platform will most likely have the developers iteration of Jacks or Better in their casino games library.
So-so aesthetics, enjoyable and deep gameplay
Unlike live casino games and the current crop of 3D themed video slots, Jacks or Better titles won't really impress players in terms of graphics and aesthetics. If players are looking for a challenge though, Jacks or Better (and most other video poker variations) would be just what the doctor ordered. If played optimally, Jacks or Better can be quiet rewarding. The challenge for anyone though is getting to the point where they can actually play this game optimally. Thankfully, the Wizard of Odds, The POGG and other casino gaming portals feature strategies that players can use to go about maximizing their chances of winning. Most developers also have demos of their video poker titles that players can practice these strategies on for free.
It might be hard to get to the point where the game can be played optimally but it's definitely not impossible. Unlike most video slots and live casino games where outcomes are strongly influenced by luck, a player will have a little more control in a video poker title like Jacks or Better (provided they did their research and practice of course).
Choosing the right Jacks or Better title to play
Now that we've established what makes Jacks or Better so popular, we should be able to start playing it straight away right? While there are a lot of Jacks or Better titles around, it's not advisable for players to just start wagering on one that they randomly come across. For players who may want to win big, the first thing they'll need to do is to focus on a Jacks or Better 9/6 title by a known developer. For this purpose, NetEnt's full pay (9/6) Jacks or Better title is a great option since a lot of online casinos make use of the developer's portfolio of casino games. If they prefer other developers (or if their favourite online casino doesn't feature NetEnt's video poker games), then players might want to check out the odds for the preferred developers' Jacks or Better version first. Players can refer to a comprehensive list of video poker titles from a wide range of developers curated by (and found on) The POGG where they have comprehensive jacks or better pay tables for most popular software providers.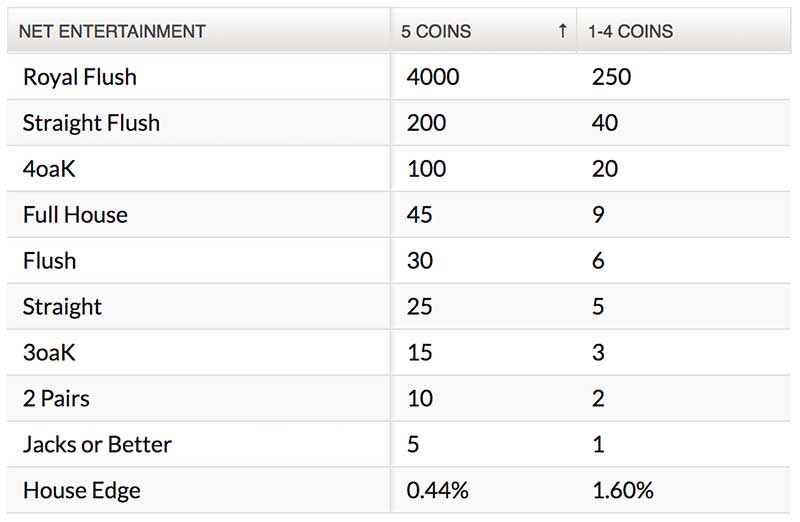 Choosing a 9/6 Jacks or Better title is important for players who want to optimize their chances of winning. 9/6 essentially means that players will get paid 9 coins for a full house and 6 coins for a flush. In contrast, the 9/5 Jacks or Better version will pay only 5 coins for a hand that contains a flush while paying out the same amount as 9/6 for a full house. While it might not seem like much, this difference will result in the 9/5 Jacks or Better version having a house edge of 1.55% (as opposed to 9/6 JoB's .46% house edge). Considering they feature the same mechanics, players wagering on a 9/5 Jacks or Better will find themselves losing more in the long run compared to if they spent the same amount of time and money on the 9/6 iteration.